LATEST NEWS FROM MARKRICHARD.CO.UK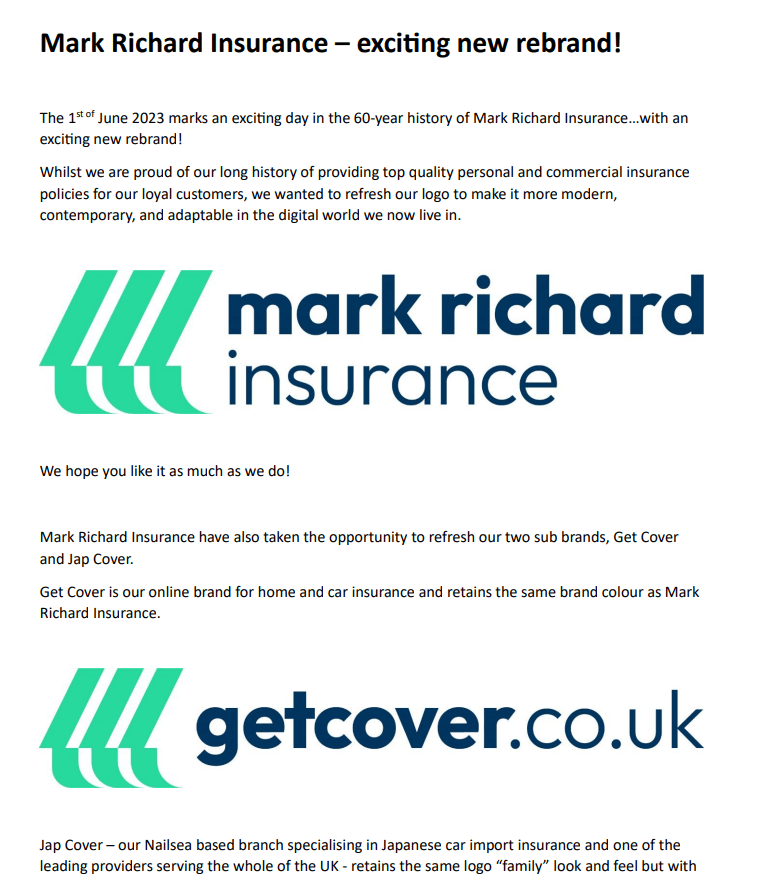 Mark Richard Insurance – exciting new rebrand!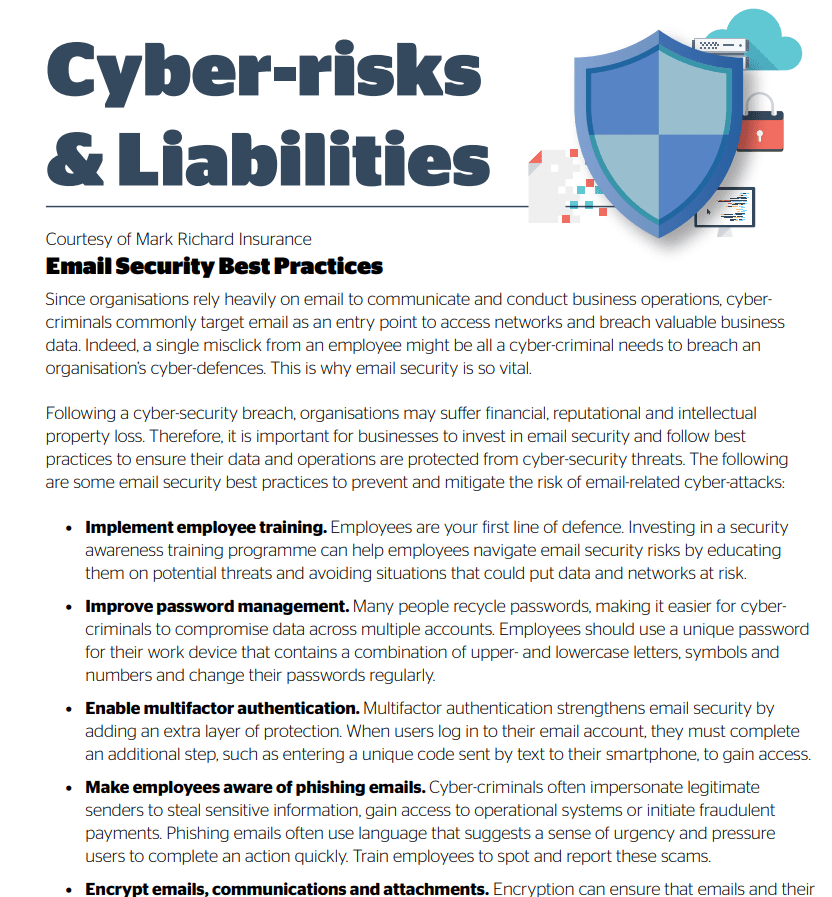 Cyber-risks & Liabilities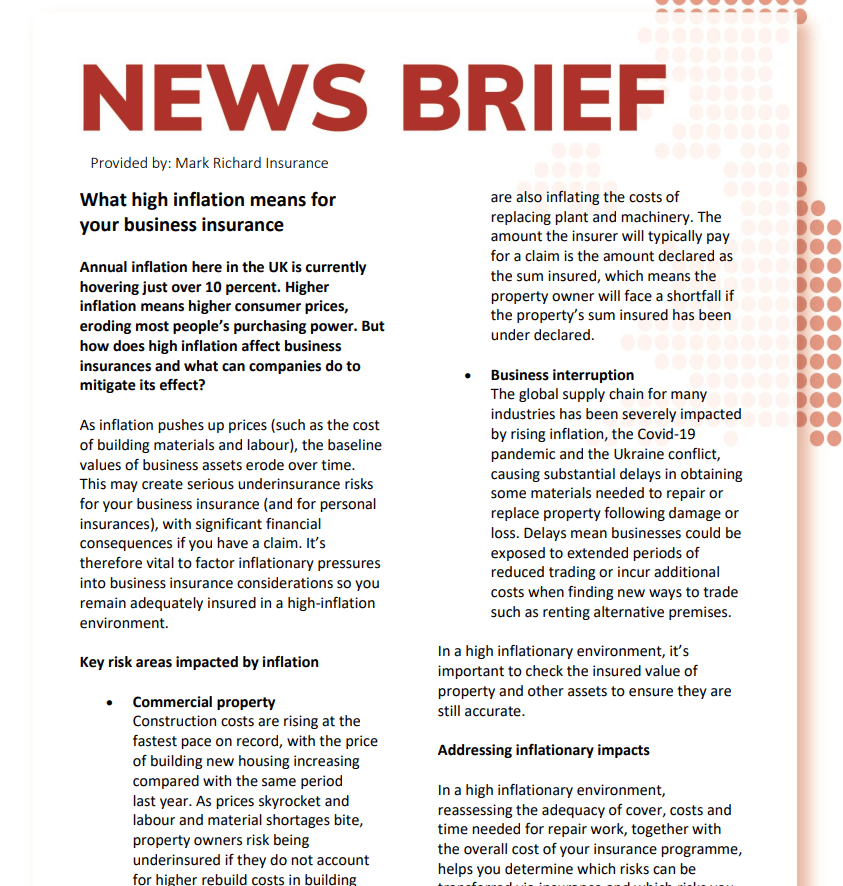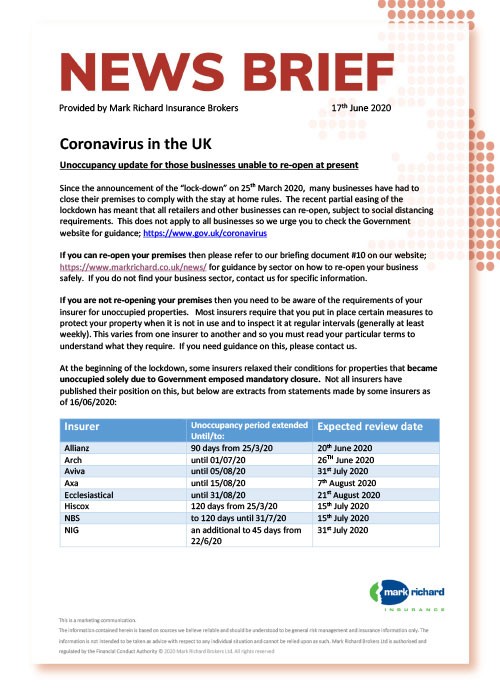 Unoccupancy update for those businesses unable to re-open at present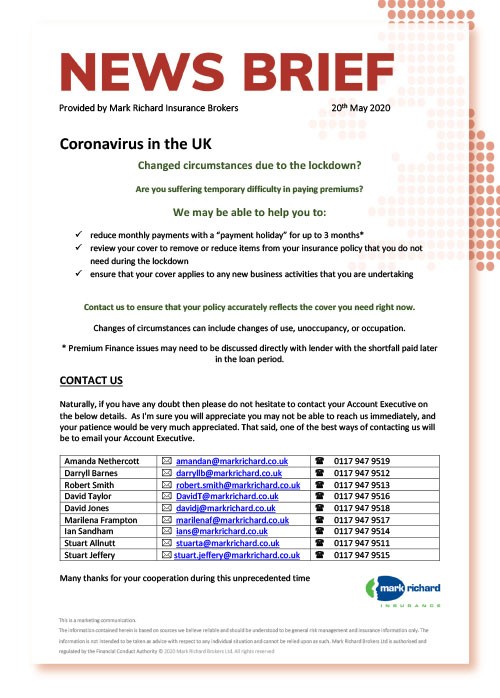 Changed circumstances due to the lockdown?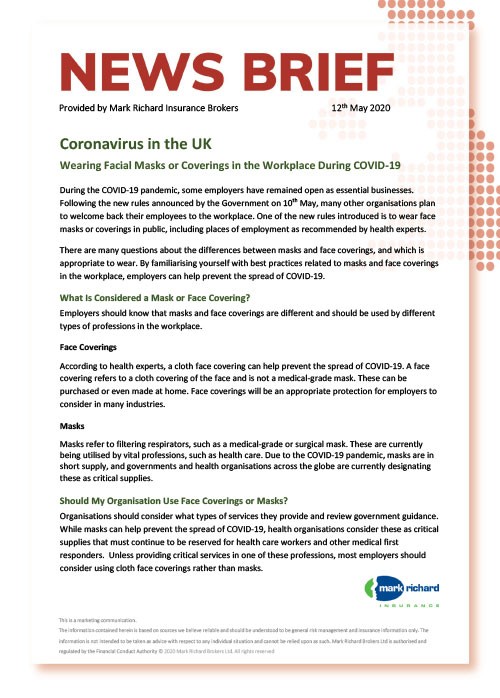 Wearing Facial Masks or Coverings in the Workplace During COVID-19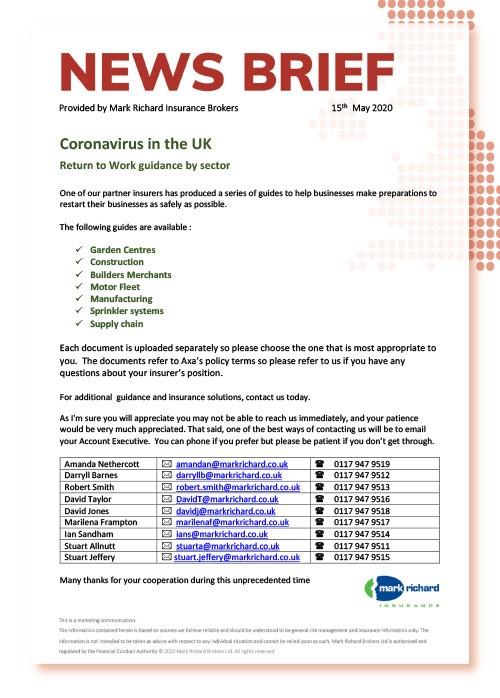 Return to Work guidance by sector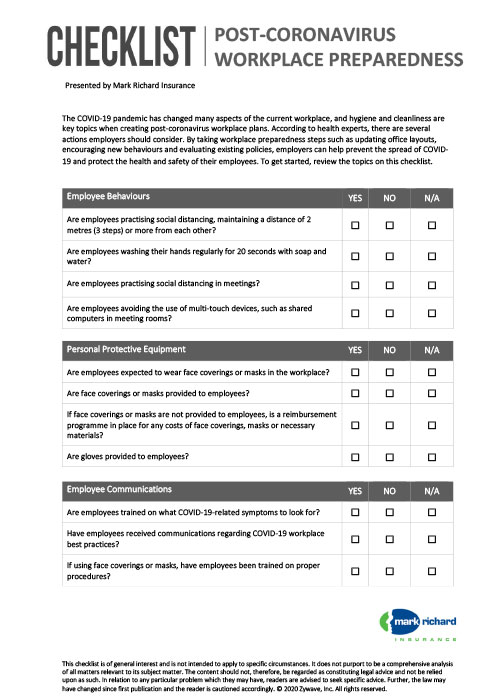 Post-coronavirus Workplace Preparedness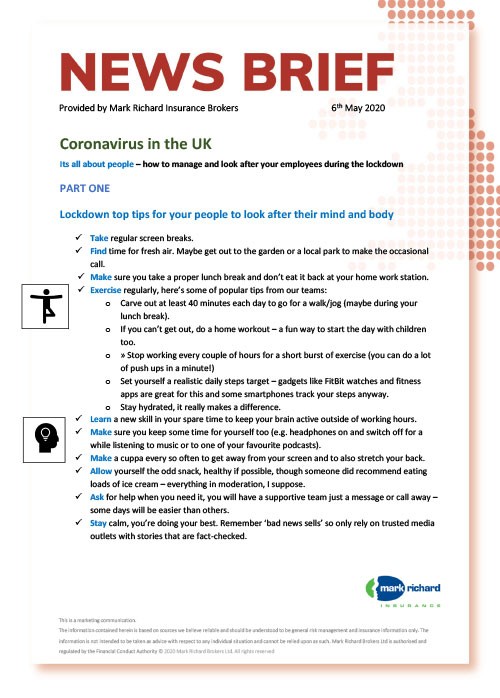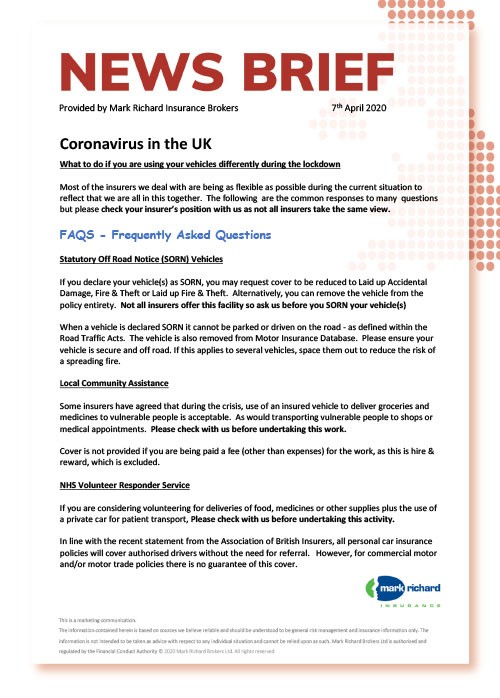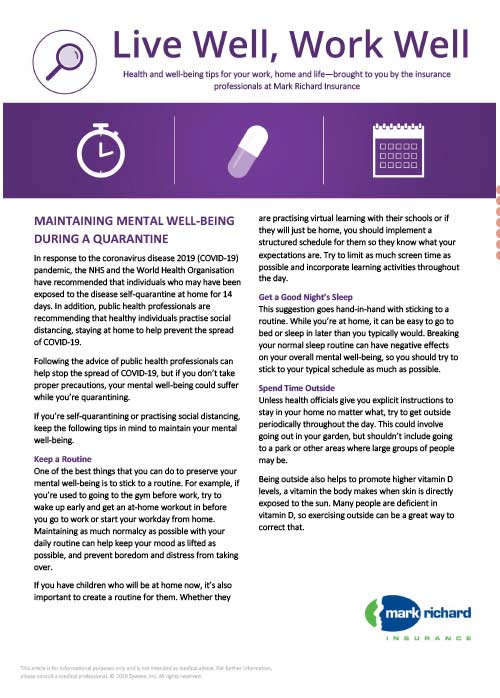 Maintaining Mental Well-being During A Quarantine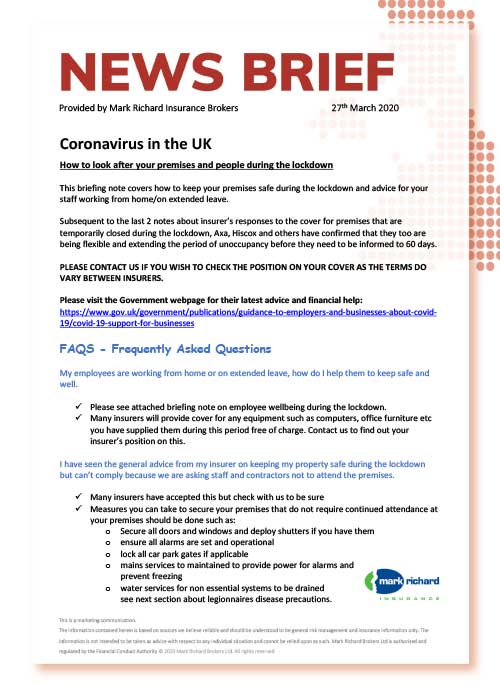 How to look after your premises and people during the lockdown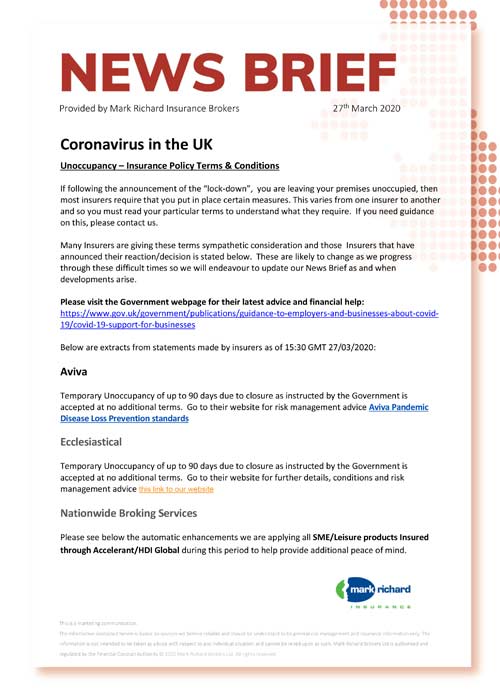 Unoccupancy – Insurance Policy Terms & Conditions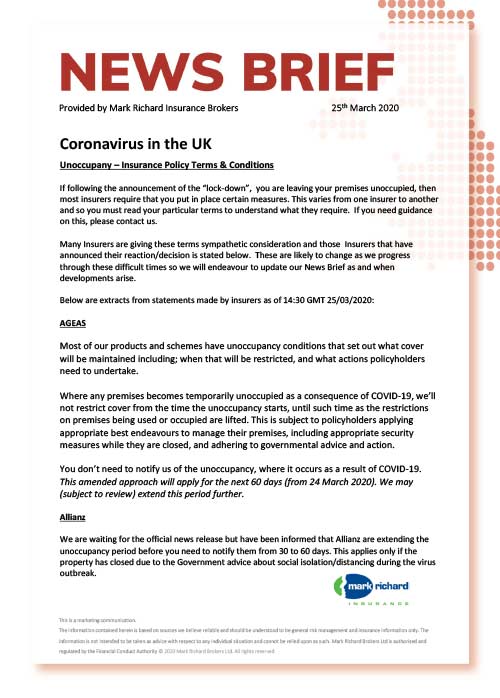 Unoccupany – Insurance Policy Terms & Conditions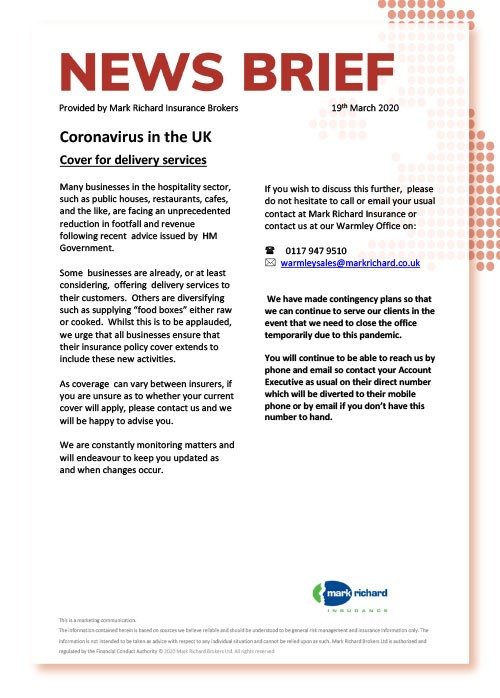 Cover for delivery services
WHY CHOOSE MARK RICHARD TO HELP YOU WITH YOUR INSURANCE QUOTE?
Below is a selection of client testimonials recently gathered from new customers.
I would have no hesitation in recommending Mark Richard Insurance to others and will be using them again in the future for all my insurance needs as the service I received was personal and excellent.
Soon I will be renewing my policy for the 3rd consecutive year with Mark Richard Insurance Brokers knowing my company insurance will be yet again in good safe hands.
The professionalism and knowledge they had of the insurance business with over 20 years' experience was clearly second to none, soon filling me with the confidence that the correct and best decision for my company would be to move my insurance to a local firm, offering a very personal service with a dedicated team member looking after my rapidly expanding company.
I have used Mark Richard insurance to insure the lease car which is used by my business. The whole process was effortless on my part and they made sure that everything moved along swiftly whilst we were able to carry out our usual business. They even liaised with the dealership in order to make sure the insurance started at the time the car was delivered.
You not only found a policy that matched all of the benefits but also saved us over £200 on our original insurance costs. Needless to say we are extremely pleased with your service and the excellent value that you provided us with.
As one of Bristol's largest independent coach operators, and family owned like Mark Richard, we are proud of our thirty-year working relationship. We are always pleased with the professional service we receive, and look forward to continuing our successful association.
It was soon very apparent that not only was Mark Richard Insurance Brokers very competitive with their price and tailor-made cover, but also on offer was a first class service to match.
I just wanted to say a huge thank you for your help in finding and arranging our new household insurance policy.
Having taken over the running of the Management Company for the block of flats where I live, I asked David to provide me with a quote for Building Insurance. When I told him who the current insurers were, he was confident of beating their price. Very quickly he produced a quote on a like-for-like basis, and he delivered - it was much cheaper!
We don't come under a standard category and have certain requirements for insuring quite complex equipment. You were very clear and able to explain how each aspect related to us as a company. Not only were you able to offer more cover than our previous policy, you also saved us a huge £319.
Independent insurance agents you can trust
Mark Richard Brokers offers insurance for motor trades, property owners, shopkeepers and home owners.
Our team of experts will be glad to help you with all your insurance needs.